Meet Friedman Place Activities Associate: Doug.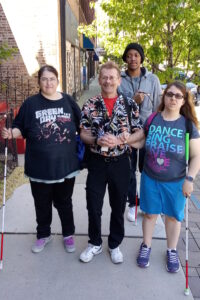 Doug is one of Friedman Place's most visible team members who works directly with residents so they may get the most out of each day. He has been with Friedman Place for 15 years and strives to provide much more for the residents than his work duties require. As a member of the volunteer and activity department, Doug plans, staffs, and creates activities for Friedman Place residents. When he was just 11, his father became disabled and this is what inspired him to work with people who have disabilities. He considers himself a liaison to the residents and offers them support as they dare to try new things an step out of their comfort zones.
One of the most rewarding parts of his job is the daily interaction with residents and how well he gets to know them. "Getting to know residents helps me to figure out how to make their day a little better." He says that his fifteen years here have flown by and as long as he puts a smile on one person's face each day, his round-trip 60 mile commute is worth the effort. Doug most enjoys working with groups of residents in art class, playing games like Uno or Crosswords to keep resident's minds sharp, or assisting their creative expression in a writing group. His primary goal is not to just motivate residents, but to also bring them together so they get to know one another and discover things they have in common. The activity that brings the most residents together is his Saturday music hour where he spins vinyl albums of every genre and the residents join in to sing along and move to the music. Doug's fondest memories of Friedman Place are the weddings that have taken place here, and being trusted to help grooms pick out wedding rings.
Doug especially admires all of the Friedman Place volunteers and he hopes they know that if they have helped one person here, that is truly a gift to that person. He also appreciates his work colleagues, who bring him joy and laughter and are like family to him.
At home, Doug enjoys spending time terrace gardening and cooking with his partner Dino. The two have four beloved pets – a dog, Belle, two Parrots – Beeker and Baboo, and a fish – Blitzy. Doug's love of animals stems from cherished childhood memories of  being allowed to have a pet monkey named Mickey for nine years as well as breeding wolves, raising three baby hawks that he found injured, and having a pot belly pig.