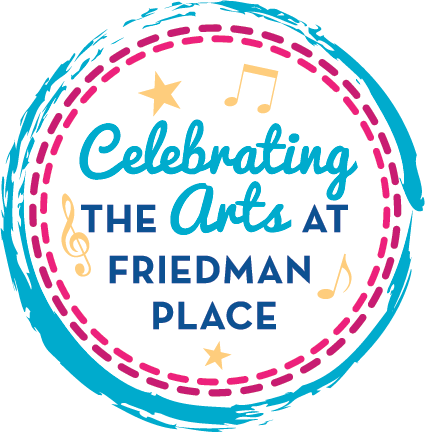 Invitation for Artists to Exhibit
Friedman Place, invites local artists to submit their work, to be included in an exhibition of artworks associated with vision, blindness, or disability. The Celebrating the Arts at Friedman Place exhibition will be on display at Friedman Place for two weeks, with the opening occurring in the evening of Tuesday, October 16, 2018 from 5:30pm – 7:30pm. It is expected that the artwork will be viewed by 500 people or more during the entire period of the exhibition.
Details about the Opening Event on October 16, will be available on this page soon.
Details for Artists submitting work:
Requirements
• 2D / flat work only (e.g., painting, drawing, photos, fabric, brief written work, etc.)
• Must be framed or otherwise ready for hanging when delivered to the exhibit
• The theme of the art must be somehow related to vision, blindness, or disability or the artist must have a disability.
• If accepted, the work(s) must be delivered to Friedman Place, 5527 N. Maplewood, Chicago, only on October 8-9 and collected (or mailed at owner's expense) on November 1-2.
• Work will not be available for sale, but if the artist chooses, their contact information will be provided to visitors to the exhibit.
Instructions to Submit Work
• Digital photographs (2-3 per piece) plus title, medium, dimensions, artist's name, address, and phone number must be received by email to alexander@friedmanplace.org by Sunday, September 16.
• Artists may submit up to 3 pieces for consideration. Please include artist's name and title of the work in the subject of the email and a brief paragraph about the artist and/or statement about the work (to be included in signage) in the body of the email.
• Up to 3 submissions per artist will be considered, but please include only one piece per email (e.g., if you submit two works for consideration please submit them separately in two emails, each with the artist's name and the title of the piece in the subject line).
• Artists will be notified by email if the work has been accepted by September 23.
Need more information? Contact Alexander Brown at 773.409.6115 or alexander@friedmanplace.org